Learn to Skate Schedule
Our Learn to Skate (CanSkate) classes are taught at the McKinney Centre, located at 222 McKinney Drive in Whitby.
Fall/Winter 2019-2020 Schedule
September 10, 2019 - March 11, 2020
Download the PDF version HERE.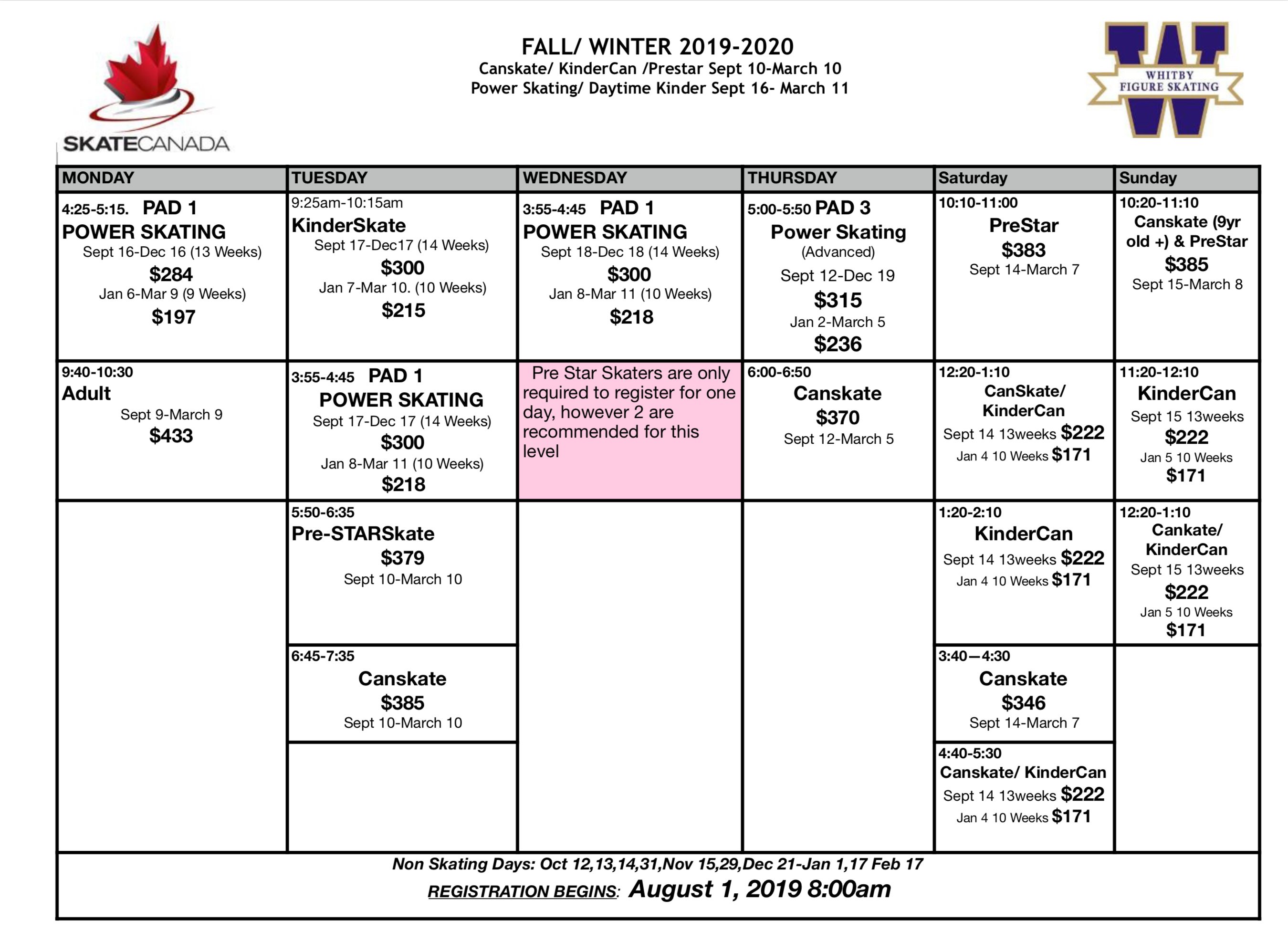 ---
You can register for one of these programs by

clicking on the Registration tab

. If you don't have a family profile already, you will need to set one up, along with a profile for each skater.
Questions regarding additional information, or for help determining the correct program for your skater, please contact the club and we will reply within 72 hours

.
Be sure to read our Helmet Policy below before your skater starts their session.
Non-Skating Days
August 5, 2019 - Civic Holiday

August 14, 2019 - Test Day
September 2, 2019 - Labour Day
October 12-14, 2019 - Thanksgiving
October 31, 2019 - Hallowe'en
November 15, 2019 - Test Day
November 29, 2019 - Private Event
December 21, 2019 - January 1, 2020 - Christmas Holidays
January 17, 2019 - Test Day
February 17, 2019 - Family Day
March 11, 2019 - Test Day
*Tentative Test Day - On Test Days there will be no skating on Pad 3 Programs, Power Skating Programs on Pad 1 and 2 will still run.
Helmet Policy
All Skate Canada member clubs and skating schools who offer a CanSkate program must ensure all CanSkate and Adult CanSkate participants up to and including Stage 5 must wear a CSA approved hockey helmet while on the ice.

This policy also applies to all other Skate Canada programs, therefore Clubs and skating schools may choose to expand the use of CSA approved hockey helmets in their club as they see necessary. In general, anyone who lacks good control/balance when skating forward, backward and has difficulty stopping, as well as maneuvering around obstacles on the ice must wear a CSA approved hockey helmet.

The WFSC also highly recommends a cage on the skater's helmet, however this is not mandatory per policy.
For more details, or to see the most up-to-date version of this policy, please click on the following link: Skate Canada Helmet Use Policy.